ADC/MCA is a fast pulse height analysis analog-to-digital converter (PHA ADC) with integrated Multichannel Analyzer. The ADC has a fixed conversion time of 390ns and incorporates a special differential non-linearity (DNL) improvement circuit. Automatic peak detection ensures stable operation at different shaping times. Integrated multichannel analyzer (MCA) is capable of capturing 1k, 2k, 4k and 8k spectra.
Two main ADC/MCA modifications are available - stand alone device, powered by line adapter and OEM kit - ideal for integration into custom-made equipment. In addition to this, a number of standard connectivity choices exist - USB, Ethernet and RS232. This high-performance Multichannel Analyzer system is ideally suited for high count rate capable Silicon Drift Detectors.
In addition to high performance hardware, a simple to use MS Windows based Analysis Software is available.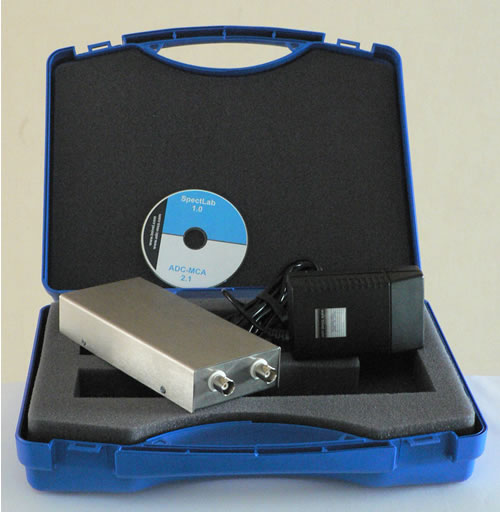 Multichannel Analyzer - Analog Digital Converter - stand alone device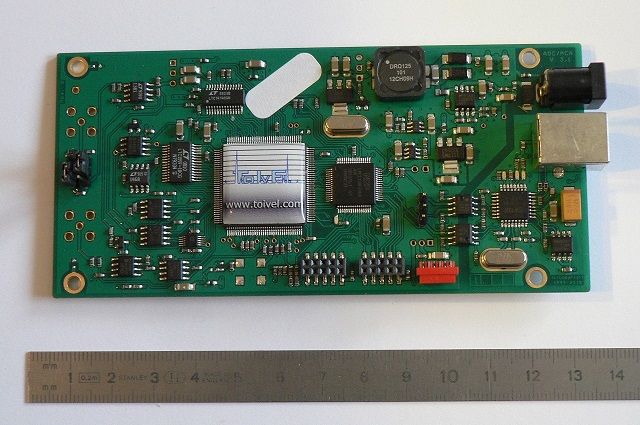 Multichannel Analyzer - Analog Digital Converter
Features:
Performance characteristics:
Resolution
4096 (8192 optional) data channels
ADC type
successive approximation, sliding scale linearization
ADC conversion time (fixed)
390 ns
Integral non-linearity
< ▒ 0.04 %
Differential non-linearity
< 0.5 %
Analog input specifications:
Pulse form
gaussian
Signal shaping time
0.15 Ás to 20 Ás
Dynamic input range
0 to +5 V (optional 0 to +2.5 V)
Mechanical and environmental:
Dimensions
140 x 60 x 20 mm
Weight
80 g
Operating temperature
0 to +70░ C
Power requirements:
Supply voltage / current
+5 V / 450 mA from USB
Alternative supply
+ 12 V / 180 mA
Gate input specifications:
Pile-up rejector logic level
TTL (LVTTL)
Gated operation logic level
TTL (LVTTL)
Serial interface specifications:
Memory size
4k x 16 static RAM
USB transfer speed
1.5 Mbaud
Electrical interface:
Lemo 00 series connectors
PHA input, Pile-up input
JST connector
+12v, GND, -12v
10-pin feature connectors
+3.3v, GND, feature-specific signals
USB connector
B type
Remote controls:
Lower level discriminator
0 V to +5 V (optional 0 V to +2.5 V)
Upper level discriminator
0 V to +5 V (optional 0 V to +2.5 V)
Dead-time detection level
0 V to +5 V (optional 0 V to +2.5 V)
Optional controls:
Detector temperature control
0 V to +2.5 V
SPI control
LVTTL